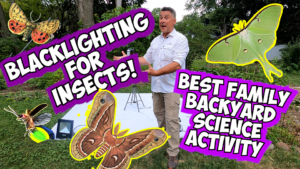 BUG ADVENTURES
Are you looking for something scientific to observe this summer as a family? Let me show you one of my favorite things to do AND you can do this in your own backyard!
BLACKLIGHTING FOR INSECTS
Insects are everywhere BUT we are only seeing half the picture during the day. The other half comes out at night. Animals that are active at night are referred to as "NOCTURNAL." And many nocturnal insects are attracted to lights. The reason they are attracted to lights is that many insects use the moon to navigate at night and artificial lights confuse them.
Go To Page